De Luca: I stand by my TAV comments
Comments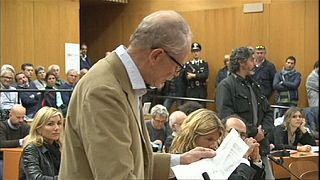 An italian writer has been cleared of a charge of inciting sabotage by encouraging protests against the planned high-speed train linking Lyon and Turin.
The plan is known as the TAV, the italian equivalent of the French TGV.
#TGVLyonTurin Le romancier italien Erri De Luca relaxé. Que lui reprochait-on ? http://t.co/bzoze1v1Oxpic.twitter.com/MNdMfeDF9Q

— Le Monde (@lemondefr) 19 Octobre 2015
Erri de Luca hugged his wife as the verdict was read out.
It was met with a round of applause in the court.
"I stand by my belief that the so-called high-speed line must be resisted and abandoned, and therefore itself be sabotaged in the legitimate defence of the health, earth, air and water of a threatened community." he said after the verdict.
The case was brought against De Luca
after he said in 2013 that every action against the project was legitimate.
The

TAV

– what is the issue?
Critics of the project say it is costly and environmentally unsound.
However, both France and Italy argue it will save money and help the environment in the long term by reducing road traffic.
The Protesters – NO TAV Street Protests – Turin, Italy. pic.twitter.com/l88lyZPs

— ك.☮▼ (@kabretaa) 13 Octobre 2012
A series of protests have been organised over the last few years, some of which have ended in violent clashes with police.
ATTACCOALLA#tav: INCENDIODOLOSO, TRENI IN TILT. Leggi la notizia http://t.co/oeoKI2xKtR… pic.twitter.com/VJQ9HO9LMW

— Marco Cozzani (@NewsImperdibili) December 23, 2014