Syrian forces regain control of key eastern area, state sources report
Comments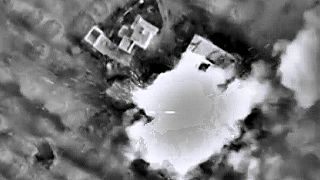 According to Syrian state television, government forces have regained control of al-Jafra in the east of the country.
The area is considered the first line of defence for the Deir al-Zor airport. Much of the province lies under the control of the self-proclaimed Islamic State, also known as ISIL.
Abu Saif al-Iraki one of the Islamist group's commanders, is believed to have died in the offensive.
Forces loyal to President Bashar al-Assad are now reportedly managing military operations from the airport.
Cuba 'not involved'
The announcement was followed some hours later by a statement from Cuba denying earlier reports it had sent troops to Syria in support of Assad.
Russian strikes
Russia and the US are among the foreign forces flying combat missions as part of the Syrian civil war.
An unverified video has emerged purporting to show Russian helicopters targeting rebel-held areas in Talbiseh city, Homs Province, in the centre of the country. The enclaves said to have been struck are strongholds of forces opposing Assad.
Russia denies claims it is fighting for the Syrian president, insisting instead its operations aim to defeat ISIL.