Slovenia witnesses 'domino effect' as Croatia diverts thousands of migrants
Comments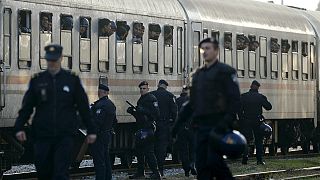 Thousands of migrants are expected to arrive in Slovenia in the coming days, after Hungary closed its border with Croatia at midnight on Friday.
The move has had a domino effect. Croatia has begun diverting many people through Slovenia, which has drafted in the army to deal with the increasing numbers crossing the frontier.
Croatia's Interior Minister, Ranko Ostojic, described the situation.
"(It) is a domino effect. It will cause a lot of trouble for all countries and I don't want to predict what will happen in this situation, because this organised system, you know, where we are receiving people, registration, security check and also medical check. It is giving a better, let's say, security situation."
Some 2,700 migrants arrived in Slovenia on Saturday (October 17). Many aim to continue north to Austria and Germany, and Slovenian Prime Minister, Miro Cerar, insists the country is "not in a state of emergency."
However, with Hungary threatening to close its border with Slovenia, it remains to be seen whether he will re-evaluate the situation.