Balkan borders continue to close as Hungary says will seal frontier with Slovenia
Comments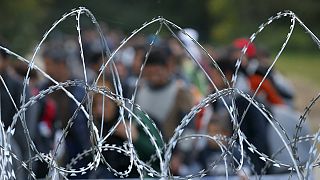 Hungary will close its border with Slovenia after barring its three major crossing points on its Croatian border, ending the possibility for refugees to use these transit routes westwards further into the EU.
Those who made it into Croatia before the barbed wire snapped shut are boarding trains bound for Slovenia. Hungary is making sure some do not slip back in.
"Temporarily, in all aspects compatible with the Schengen regulations, Hungary has restored border controls on the Hungarian-Slovenian border. This measure was needed due to this morning's events, as migrants directed from Croatia to Slovenia appeared close to the Redics border crossing point, on the other side," said government spokesman Zoltan Kovács.
In total Slovenia is expecting some 2,400 migrants, mostly from Syria, Iraq, and Afghanistan. It says it only has capacity for 8000 in total, but has promised to keep its borders open as long as Austria does the same.
Slovenia is on the so-called "new route" from Turkey following the closure of other Balkan entry points. A group of some 1,500 refugees made it into Hungary just in time before the wire went up. Where they go from Zakany remains to be seen.