Venezuela: Opposition politician Rosales in court after arrest on return from exile
Comments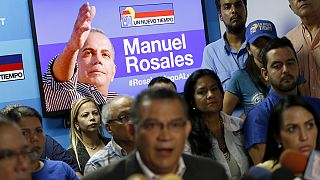 Venezuelan opposition politician Manuel Rosales has appeared in court following his arrest on returning to the country from exile.
He had fled to Peru in 2009 after being accused of corruption but the ex-presidential candidate has continued to protest his innocence on charges he claims are politically motivated. Following the court hearing in the capital Caracas, he will remain in custody.
Nonetheless, Enrique Marquez, head of the centre-right New Era Party founded by Rosales, said that his return had boosted its efforts to bring hope to Venezuela on December 6, when parliamentary elections will take place.
Inflation is approaching 200%. Crime and corruption are rampant. Now, Venezuela votes http://t.co/5I1R91et5Zpic.twitter.com/EtZtMlHGaE

— The Economist (@EconAmericas) 5 Octobre 2015
Despite being barred from holding office, Rosales came back hoping to play a part in that vote.
Once a fierce challenger of Venezuela's late socialist leader Hugo Chavez, he now joins a list of opposition figures to be jailed by the government of Chavez's successor Nicolas Maduro.
Detained by intelligence agents on Thursday after his plane landed in the city of Maracaibo, Rosales is accused of corruption over his time as governor of Venezuela's most populous state of Zulia.