Taliban reign of terror: Harrowing accounts from the Afghan city of Kunduz
Comments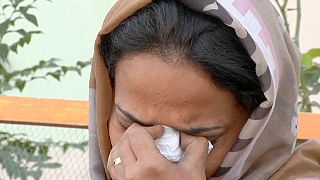 The Taliban only held the northern Afghan city of Kunduz for three days.
The lives of women were in danger all the time. At any time, they could be a victim of sexual abuse
But stories have emerged of a reign of terror by the extremists, with women particularly targeted.
Amnesty International has reported accounts of mass murder, gang rapes and house-to-house searches by Taliban death squads
#Afghanistan: Horrific accounts of mass murder & rape emerge from #Taliban reign in Kunduz. https://t.co/13IcrqvIUNpic.twitter.com/LYNJkvzB2w

— AmnestyInternational (@amnesty) 1 Octobre 2015
Some 100,000 residents of Kunduz fled the city amid the fighting between Afghan security forces and insurgents, according to UN estimates, scattering to camps, hotels and relatives' homes across the north and in Kabul.
Mother-of-two Sabeha Safi is one of those to have sought refuge in the capital, where she has used her medical training to treat other internally-displaced persons.
"When people woke up in the morning, the Taliban were everywhere, in every street. I am not sure about the future. I am not optimistic…Maybe it is just the way I feel. Maybe I really am demoralised. I don't have a good feeling at all," she said.
Journalists too fell prey to the extremists, with media outlets ransacked and reporters tracked down.
Parisa Aimaq, a well-known TV journalist locally, was among those who fled to Kabul.
"When the Taliban are in a province. it can't be safe," she said.
"The lives of women were in danger all the time – at any time they could be a victim of sexual abuse. There were women who became victims…so no matter what happens, the situation is very serious in Kunduz."
Kunduz is strategic – on a trade route linking Afghanistan with the ex-Soviet republic of Tajikistan. Its porous border is also used for the smuggling of opium and heroin.
Amid the turmoil, President Obama's decision to drop plans for a radical reduction in US forces has been welcomed by the government in Kabul which had feared being abandoned by its most powerful ally. The Taliban though says the ongoing US military presence won't be enough to halt its advance.