Steinmeier looks for a Syrian solution in Middle East tour
Comments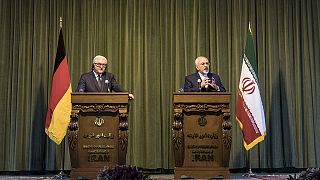 German Foreign Minister Frank-Walter Steinmeier is on a four-day trip to Iran, Saudi Arabia and Jordan, with two of those days consecrated to the Iranians.
Steinmeier is hoping to persuade the Iranians to use their influence over Syria's Bashar al-Assad to seek a diplomatic end to the war there. It is the first official visit to Iran by a German foreign minister in more than 10 years, and coincides with the Core Group meeting of the Munich Security Conference.
"The experience of the Vienna deal should be considered as a base for trust between our regional partners. We are far away from a result in Syria, but even if there's a long way to go, we need to know that we have commitments to Syrians and the people in neighboring countries to do something which produces a result," he said.
Iran may have reached agreement over its nuclear programme, but missiles are another thing. This week saw boasts about vast underground arsenals on television, and the launch of a new long-range missile Iran says can be nuclear-capable, and which may have broken UN arms limitation rules.
"We seriously believe that our missile testing has nothing to do with the 2231 resolution, because in the 2231 resolution missiles that are designed for nuclear capabilities are mentioned and none of the Islamic Republic of Iran's missiles are designed for nuclear capabilities," said Iranian Foreign Minister Mohammad Javad Zarif.
"By reaching the nuclear deal and officially starting its implementation, Iran will regain its regional position; Steinmeier's presence in Tehran and his efforts to utilize Iran's role in resolving the ongoing crisis in the Middle East is a clear endorsement of this position," says euronews' Javad Montazeri.