Platini payment abided by the law - Blatter
Comments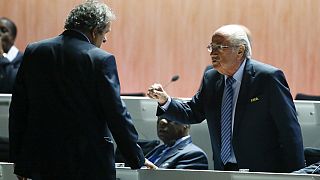 Embattled FIFA president Sepp Blatter spoke to the media on Friday for the first time since his 90-day suspension.
Blatter, who has spent 18 years in office, was suspended last week by the governing body's ethics committee as a result of an ongoing investigation into a 1.8 million euro payment to UEFA chief Michel Platini in 2011.
Both deny any wrongdoing but both has been provisionally suspended.
Speaking to a regional broadcaster based in the canton of Valais in his native Switzerland, Blatter said: "Yes, I had a contract with Michel Platini, a gentlemen's agreement and that that was implemented but I cannot give any details on the agreement because this is now being looked at by 2 committees…everything in the agreement abided by the law. At some stage this suspension will expire, until then they (the committees) will investigate."
In a seperate case involving FIFA the German football federation is now investigating whether a multi-million-euro payment it made to football's world governing body in 2005 was misused.
Spiegel magazine has raised suspicions about the 2006 World Cup tournament in Germany having been bought with bribes in the region of €6.7m.
The report said Franz Beckenbauer – the head of the bidding committee and later the organisational committee – was among those aware of the account used for the payment.
The Federation argue the funds were for FIFA's 'Cultural Programme.''