English FA suspends support for Platini's FIFA candidacy
Comments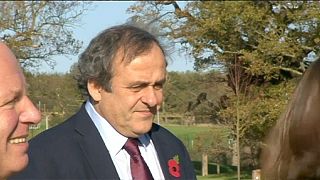 The English Football Association has suspended its support of UEFA chief Michel Platini in his bid to become the next FIFA president.
The FA made the decision following a meeting of UEFA's 54 members in Nyon on Thursday held to discuss the future of Platini who is being investigated over a 1.8 million euro payment he received from outgoing FIFA head Sepp Blatter in 2011.
Platini, who is standing in the FIFA presidential election scheduled for Feb. 26, and Blatter were banned for 90 days by the FIFA Ethics Committee last week pending a full investigation into the payment.
Both men strongly deny any wrong doing.
The FA say its now waiting until the legal process has been concluded and the position is clear before either renewing their support for Platini or backing another candidature.