New Ebola vaccine is tested on Spanish volunteers
Comments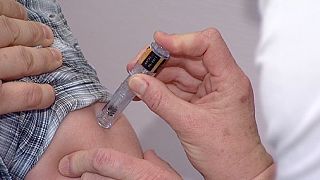 A new Ebola vaccine is being tested for the first time in Europe on volunteers at a Spanish hospital in Madrid. Forty health workers are being checked to see if they develop any side effects.
When the same vaccine was used on 4,000 people in Guinea the World Health Organisation said it had been 100 percent effective.
The infection Unit chief at La Paz Hospital Jose Ramon Arribas, stressed the programme's importance.
"A vaccine that works, that would be only one dose, and that could be applied on the ground…that would be enormous progress."
One doctor taking part in the Spanish test said he only experienced a fever which came and easily went from the vaccine.
There is still much to be learnt about Ebola particularly in the light of the case of a British nurse who seemingly made a full recovery but is now critically ill after the virus re-emerged.
The international effort to find a vaccine follows one of the worst outbreaks of the disease in decades.
In 2013 Ebola took hold in three West African countries (Guinea, Sierra Leone and Liberia) eventually infecting 28,000 people and killing more than 11,000. Even today there are still people dying from the disease.