Flight MH17: was shot down by a BUK missile fired from Eastern Ukraine - Dutch report
Comments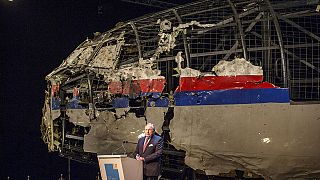 The Dutch Safety Board has concluded that flight MH17 was shot down over eastern Ukraine by a Russian-made BUK missile.
The board published the findings in its final report into the Malaysia Airlines crash that killed all 298 people on board, mostly Dutch citizens.
Flight MH17 broke up high over eastern Ukraine last July, in territory held by pro-Russian rebels.
"Flight MH17 crashed as a result of the detonation of a warhead outside of the airplane, above the left hand side of the cockpit," explained Tjibbe Joustra, Chairman of Dutch Safety Board. "This warhead was of the 9M314M type carried on the kind of missile that is installed on the Buk surface-to-air missile system. As a result of the detonation the forward part of the airplane was torn off. The airplane broke up in the air, the wreckage came down in an area of about 50 kilometres at the eastern part of Ukraine."
Victims' families were the first to know the findings of the investigation at a Dutch military base where parts of the plane have been reconstructed.
The board is not authorised to apportion blame under rules governing international flight crash investigations.