MH17 report: Feeling of injustice remains for victims' relatives
Comments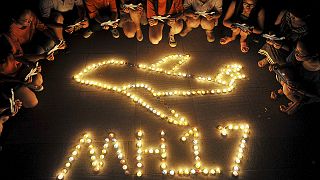 No-one was awaiting the findings of the Dutch Safety Board's final report into the MH17 disaster more than the relatives of the 298 people who were killed – most of whom were from the Netherlands.
We don't know if they will ever get to the bottom of this
Families were briefed on the report on Tuesday, ahead of the media. It addressed many of their questions but not a feeling of injustice.
One Dutch relative told reporters: "If you are capable of carrying out such an attack, you have to be punished.
"Whether that will ever happen, is another matter. We don't know if they will ever get to the bottom of this. We hope so, but whether they will succeed, we don't know."
Robby Oehlers lost his cousin Daisy, a young Dutch woman who had been travelling with her boyfriend to a dream holiday in Bali.
"They also said that the plane moved because there was bad weather, thunderstorms, so they came across above the war zone and it shouldn't have happened," Oehlers said.
The Dutch are leading a separate criminal investigation. But for some, the culprits in this tragedy are already clear.
"It took 10 years for the Libyan government to wake up and do the right thing for Lockerbie Pan Am 103. The families of MH17 hope it will not take the Russians 10 years to do the right thing for their families," said James Healy-Pratt, a lawyer representing relatives of MH17 victims.
Those who died in the July 2014 disaster were from the Netherlands, Malaysia, Australia, Indonesia, Britain, Germany, Belgium, The Philippines, Canada and New Zealand.
Some comfort for their families came with the conclusion that those on board MH17 had no time to suffer – most probably losing consciousness very quickly.
The report said it was likely that the occupants "were barely able to comprehend the situation in which they found themselves".
'Death must have been pretty quick' for victims of #MH17 hit by Buk missile http://t.co/vSO0WHYPOppic.twitter.com/j0IOlDT3va

— HuffPost UK (@HuffPostUK) 13 Octobre 2015