MH17: incomplete facts, brutal tragedy
Comments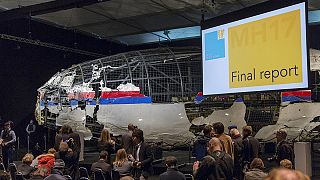 Air traffic control lost contact with MH17 on Thursday 17 July, 2014, at a quarter past three in the afternoon, CET. The Boeing 777 plummeted from ten thousand metres.
The 283 passengers, some two thirds of them Dutch, and 15 Malaysian crew had set out from Amsterdam heading for Kuala Lumpur.
The main crash site is around 50 km from the Russia–Ukraine border.
The Ukrainian government and pro-Russia separatists immediately accused each other of shooting down the plane.
Dutch victims' remains were repatriated on board military aircraft and honoured in ceremony. The other nationalities of the passengers who died were Malaysian, Australian, Indonesian, British, Belgian, German, Philippino, Canadian and New Zealander.
The remains and belongings were entrusted to the Dutch Safety Board investigating the crash. The probe would take nearly 15 months.
Final returns were only made in spring this year, collected ten kilometres away from the main concentration of wreckage.
Other investigations took place concurrently.
Immediately following the disaster, Eurocontrol said flight restrictions over Ukraine were not in place for airspace at cruising altitude, where MH17 was hit.
Logistical observers stressed that the size of the country made it expensive, in terms of extra fuel, to fly around.
Diplomatic and military complications surrounding access to the combat zone raised fears that the pro-Russian rebels controlling the crash site destroyed evidence, removed bodies and prevented OSCE monitors from working there.
One year after the shooting down of MH17, Australian media obtained video apparently taken by the rebels discovering that a civilian airplane rather than a Ukrainian military aircraft had crashed.
Russian defence officials challenged western and Ukrainian accusations.