At least five dead, 20 wounded in "Day of Rage" in Israel
Comments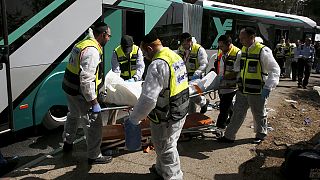 Men wielding guns and knives reportedly killed at least 3 people and wounded 20 more in a spate of attacks in Israel, on a "Day of Rage" called by Palestinian groups.
Two Palestinians shot and stabbed passengers on a Jerusalem bus on Tuesday (October 13), killing two people and wounding several, Israeli media reported. One of the assailants was killed, the other one captured.
Moments later, another reportedly rammed his car into a bus stop in central Jerusalem, then got out and started stabbing pedestrians, killing at least one, before police shot him down.
Earlier in the morning, a Palestinian man stabbed an Israeli on a shopping street in Raanana, just north of Tel Aviv. Amateur video handed out by police showed men beating the alleged assailant as he lay on the ground.
Shortly after, still in Raanana, another Palestinian drew a knife and wounded several people, local media said.
Israel and the Palestinian territories are suffering their worst unrest in years, with over 30 people killed so far this month in street attacks and security crackdowns.