Netanyahu vows 'knife terror' won't beat Israel as stabbings multiply
Comments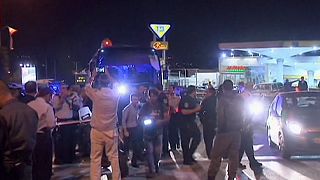 The pace of Palestinian stabbing attacks in Israel escalated on Monday, with Jerusalem the focus of violence.
As night fell, an Israeli soldier was wounded on a bus in the city. The attacker was shot dead.
Earlier, two Palestinian teenagers stabbed two youths at a Jewish settlement in East Jerusalem. One of them, a 13-year old boy who had been riding his bike, was critically injured.
Police shot dead one of the attackers. The other, just 13 himself, was shot and injured.
Also on Monday, two Israeli policemen were stabbed in separate incidents in Jerusalem.
One of the assailants was shot dead. The other, a woman, was wounded.
"The terror of suicide bombers did not vanquish us, and the terror of knives will not beat us," Israel's Prime Minister Benjamin Netanyahu told parliament.
Netanyahu in Knesset: We will defeat this wave of terror like we did the others - http://t.co/GFbwRDPe7wpic.twitter.com/8WSnad1E0q

— Haaretz.com (@haaretzcom) 12 Octobre 2015
He also addressed the tension that triggered this upsurge in violence.
"They repeat over and over again their lies that we intend to destroy al-Aqsa or to change the status quo here. This is an absolute lie. It is the exact opposite. We are committed to maintaining the status quo at Temple Mount," Netanyahu told the Knesset.
Muslim anger has been stoked by increasing visits made by Jewish groups and right-wing Israelis to the al-Aqsa mosque compound in Jerusalem on a site also revered by Jews as the Temple Mount.
Also on Monday, at the Jilazoun Refugee Camp in the West Bank, hundreds of people took part in a funeral procession for a 13-year-old shot dead by Israeli soldiers during clashes.
Ahmed Sharakeh is one of at least 26 Palestinians and four Israelis killed in violence that has raged since the start of the month.
Palestinian groups have called for a "Day of Rage" across the West Bank, Gaza and East Jerusalem on Tuesday and the leaders of Israel's Arab community have called for a commercial strike in their towns and villages.