US to seek to pay Kunduz hospital victims
Comments
By
Euronews
with
US Department of Defense, Reuters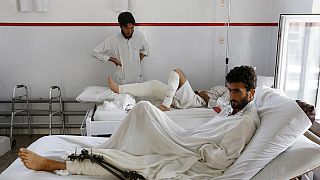 The Pentagon has announced it will seek to compensate those injured and the families of those killed in a US air strike on a hospital in Kunduz, Afghanistan.
On Wednesday (October 7), President Barack Obama made a formal apology to Médecins Sans Frontières (MSF), the aid organisation running the facility when it was struck.
At least 22 staff and patients were killed in the bombing. The US says it was a mistake and claims Taliban insurgents were the intended target of the strike.
According to MSF, 33 staff members and patients remain unaccounted for.
The Pentagon says money is also available to repair the hospital.