Protests against the Ankara bombing end in clashes in Istanbul and Diyabakir
Comments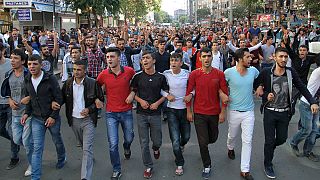 Not long after the attack social media in Turkey was on fire in indignation, and calls for people to take to the streets in protest were answered in both Istanbul and Diyabakir, with civic groups, organisations, unions and concerned citizens joining HDP supporters and officials.
Everyone vented anger at the government, and in both cities the protests ended in clashes with police.
"If the AKP does not establish a border between terrorism, then these attacks will go on. Let's say that for example they have nothing to do with this attack, at least they should resign because they haven't been able to prevent it. But here no-one resigns," fumed Selahttin Demirtas, the HDP's co-leader.
Istanbul has one of the largest Kurdish populations in the country, and Diyabakir is the largest city in their south-eastern homeland, where tension has been running high since another HDP rally was bombed in June on the eve of elections.
The city has a turbulent relationship with the central government in Ankara, which maintains powerful security services in the city, who were kept busy on Saturday night.