Video emerges of France train hero Spencer Stone stabbing
Comments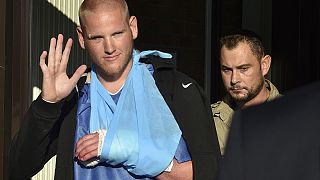 France train attack hero Spencer Stone is in a stable condition and expected to survive after being stabbed repeatedly in the US town of Sacramento, California.
Surveillance footage that purportedly shows Stone's stabbing early on Thursday morning (October 8) has emerged and has been posted online by the Sacramento News and Review.
Police said the US Air Force airman was stabbed during a fight outside a bar early on Thursday and was hospitalised in a serious condition.
"The suspects in this crime are two male Asian adults," Sacramento Deputy Police Chief Ken Bernard told reporters. "The males are being described as wearing white t-shirts and blue jeans. The suspects, we believe, fled in a 2009-2012 dark color, dark gray, or black, Toyota Camry."
Stone is one of three Americans who overpowered a gunman on a train bound for Paris in August.
The men were hailed as heroes and received worldwide accolades from the presidents of France and the United States.
Police say the stabbing was not related to Stone's role in taking down the gunman on the train and there was no connection to terrorism.