France train hero Spencer Stone stabbed in Sacramento
Comments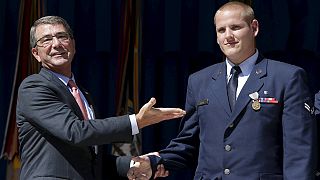 France train attack hero Spencer Stone has been repeatedly stabbed in the US city of Sacramento.
American network NBC reported Stone was stabbed on Wednesday night (October 7).
US Air Force officials said the 23-year-old was in stable condition.
Stone and two friends overpowered a gunman on a high-speed train bound for Paris in August.
The men were quickly hailed as heroes. French President Francois Hollande awarded the country's highest honour to the men who were presented the Legion of Honour.