Klopp 'the normal one' takes the helm at Anfield
Comments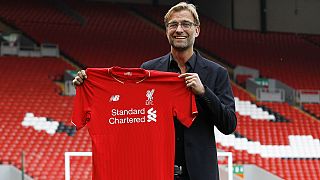 New Liverpool boss Jurgen Klopp has been talking to the media after signing a three-year deal at Anfield.
Welcome To Liverpool Jurgen Kloop pic.twitter.com/AyKg4DOj4P

— Berita BOLA Semasa (@BBSemasa) 8 Octobre 2015
The 48-year said he was the opposite of a certain Chelsea manager:
"Does anybody in this room think I can do wonders? No? Let me work, I am a totally normal guy. I come from the Black Forest. My mother may be sitting in front of the television and watch this press conference and has said no word until now. But she is very proud. So I am a totally normal guy, I am the normal one, may be if you want this."
Klopp then switched to his native German: "I am not here because Liverpool is similar to Dortmund. I am here, because Liverpool is a awesome club and I am really keen to manage this club, that is the reason. I am not looking for the most emotional club of the world and say, that's were I belong to. This is a cool club and they were looking for a manager and they were thinking of me. That is the reason I am here."

#Klopp è già l'anti-#Mourinho: "Io sono il 'Normal One'" http://t.co/FRMlGQZxHb#Liverpool#LFCpic.twitter.com/Zo428liPPP

— Goal Italia (@GoalItalia) 9 Octobre 2015
The former Dortmund coach has signed a 20 million euro contract over three years and brings in Zeljko Buvac and Peter Krawietz as his assistants.
OFFICIAL: Sky Sports Germany reporting Klopp will bring Zeljko Buvac and Peter Krawietz to #LFC#KloppLFC#Klopppic.twitter.com/gzJsdBCCzR

— Klopp (@KopKingKlopp) 9 Octobre 2015