Svetlana Alexievich winsNobel Prize for Literature
Comments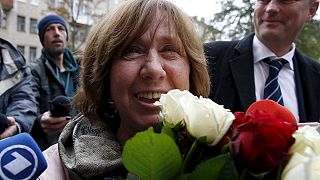 Writing history and now making history. Svetlana Alexievich has become the first journalist to win the Nobel Prize for Literature.
The Belarusian has been critical of her home country's government in her writings and spent 10 years in exile living in various European countries before moving back to Minsk.
At the announcement of the award the chair of the Swedish Academy Sara Danius called her writing "a monument to courage and suffering in our time" and expounded: "What she's done is an extraordinary achievement. For the past 40 years she's been exploring the soul of the Soviet individual and the post-Soviet individual. That would have been enough but on top of that she's devised a whole new literary genre, one that transcends conventional journalistic formats."
Svetlana Alexievich spoke of her personal joy when she talked to the press.
"This is not only a prize for me, but a prize – I think – as a whole for our culture, for our small country, which all the time throughout its history and now as well, has been caught in a grinder, it always has been pressed from all sides."
Voices from Chernobyl and Zinky Boys are among her best known works.
"The Nobel Prize has given us a spiritual leader," reacted one independent Russian journalist another, pro-Kremlin said she was given the prize for her "hatred towards Russia".