Nato ready to send troops to defend Turkey, says Stoltenberg
Comments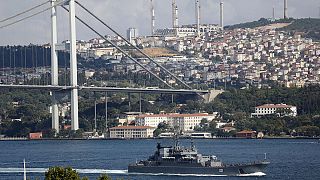 Nato defence ministers are meeting in Brussels. Top of the agenda – the escalation of Russian military activities in Syria.
Moscow's support of embattled president Bashar al-Assad has left the US and its allies reeling.
Ahead of the meeting, Secretary-General Jens Stoltenberg said that
"NATO is ready and able to defend all allies, including Turkey against any threat".
"This is particularly relevant in the view of the recent violations of NATO's airspace by Russian aircraft… My concern is that Russians are not mainly targeting ISIS but they are targeting other opposition groups and they are supporting the (Assad's) regime. I call on Russia to play a constructive and cooperative role in the fight against ISIS."
Wednesday saw Russian warships firing missiles into Syria from the Caspian Sea more than 1,000km away, passing Iran and Iraq to strike their targets. Britain's defence minister Michael Fallon said that Moscow's involvement had made the conflict more dangerous, and called on the Kremlin to use its influence to prevent the Assad regime from bombing civilians.