'Terrorism' arrests in Australia over murder of police employee
Comments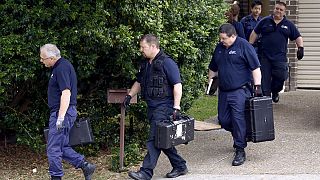 Four people were arrested in Australia on Wednesday (October 7) in connection with the slaying of a civilian police worker, whose murder is being treated as a case of terrorism.
What we are investigating is a terrorism offence
Some 200 officers raided homes in Western Sydney at dawn as part of their investigation. Police accountant Curtis Cheng, 58, was shot dead last Friday (October 2) by a teenage boy, Farhad Jabar, who authorities said was born in Iran of Iraqi and Kurdish background.
Catherine Burn, New South Wales Police Force Deputy Commissioner, said: "What we are investigating is a terrorism offence, so what we would suggest and we suspect is that there was some influence, whether it was ideologically, religious or politically motivated that determined and influenced the 15-year-old to go and commit this horrendous act of violence."
Local media reports said the homes of three of the men arrested on Wednesday had been previously targeted in counter-terrorism raids a year ago.
Earlier this week, a student who attended the same school as Jabar was arrested and questioned over alleged social media posts praising Farhad and threatening police.
Australia is a staunch ally of the United States in its fight against Islamist militants in the Middle East, and it has been on high alert for attacks by home-grown radicals since last year.