Russian warships strike targets in Syria
Comments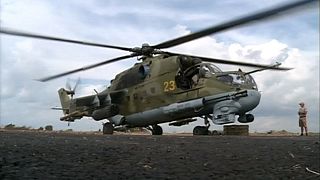 Amateur video has been released which reportedly shows Russia's escalating military role in Syria.
In what appeared to be the first major coordinated attack since Moscow entered the fray, the Syrian army aided by Russian airstrikes, attacked insurgent targets in Hama province and nearby Idlib.
A volley of missiles was launched from Russian warships over 1,000km away in the Caspian Sea. The Kremlin defence ministry confirmed 26 rockets were fired, and had struck targets associated with Islamic State militants.
It marked the first known use in combat of Russian sea-based cruise missiles at this range.
President Putin has continues to call for cooperation with the US, Turkey and Arab States on Syria, however, Washington has refused to cooperate calling Moscow's strategy 'tragically flawed'.