NATO exercising restraint over Syria
Comments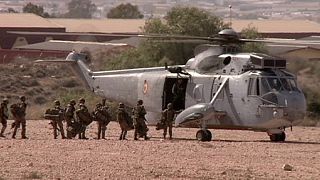 NATO forces on exercise. NATO exercising restraint. It seems improbable that the 28-nation alliance would deploy ground troops in Syria.
NATO has a collective defence pact. But even if Russian planes swerve over NATO member Turkey, the charter says: '…an armed attack against one or more of its member in Europe or North America shall be considered an attack against them all…' But already in 2012, words were said and some steps taken.
Then NATO Secretary-General Anders Fogh Rasmussen said: "Turkey has asked for alliance's support and we stand in full solidarity with Turkey. Because this is what our alliance is all about. As we have already made clear, any deployment would be defensive only."
Ankara welcomed NATO deployment of six Patriot missile batteries on Turkish soil against a perceived ballistic missile threat from Syria.
NATO Airborne Warning and Control System, or AWACS planes, have been backing Turkey up for years. High altitude, unarmed aircraft detect others in the air, ships and ground vehicles at long range. They can also direct defensive and offensive action.
At the last NATO summit, in September 2014, Ukraine concerns kept Syria in second place. The leaders' decision was to take no decision. A few days earlier, though, nine NATO members had announced they would coordinate their actions against threats from the radical Islamic State movement (ISIL) in the wake of its offensive in northern Iraq. This meant the US, Australia, Canada, Denmark, France, Germany, Italy, Poland, Turkey and the UK. The NATO alliance would offer logistical and humanitarian help and intelligence-gathering.
Today, the anti-ISIL coalition counts all the NATO countries — but the alliance can say it is not active in Syria. NATO adheres to United Nations principles, therefore it would need a UN mandate to act there.
NATO did act in Libya in 2011, with a UN mandate, which Moscow feels was misused. The alliance's ministers gathered in Turkey in May this year, ostensibly to concentrate on their southern flank. Libya is a dangerous wreck now. Syria, it is feared, may hold even greater potential for ruin.