Happy Birthday Mr President - Putin turns 63 winning a game of hockey
Comments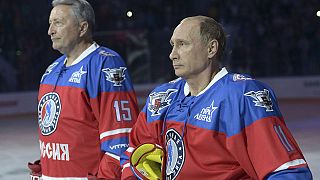 After launching airstrikes in Syria, Russian President Vladimir Putin chose to spend the rest of his birthday playing hockey.
Taking to the ice in the Black Sea resort of Sochi, the 63-year-old leader scored 7 goals, taking his team, which included ex-NHL legends, to a 15-10 victory. However, this was down on his previous record of scoring 8 goals in a similar event back in May.
The celebrations didn't end there, rapper Timati released a music video featuring the refrain "My best friend is President Putin". "The whole country is behind him, you know he's an awesome superhero!"
The question of what to buy for the world leader that has everything appears to be animals. One of his most famous four-legged gifts was a Bulgarian sheepdog puppy from Boiko Borrisov.