Austrian climber first to ascend Lebanese landmark
Comments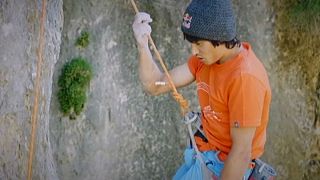 Twenty-five year old Austrian climber David Lama has become the first person to scale Baatara Gorge sinkhole in Lebanon, also known as the Cave of the Three Bridges, 75 km outside the capital Beirut.
He made his dramatic ascent of the Jurassic limestone feature in June of this year but has only just released some dramatic images.
"If you travel roads that have already been discovered, you are basically always just following," said Lama. "But if you go somewhere where no one's ever been and do something no one's ever done, you're in the lead and that's one thing that I really like."
Lama describes the gorge as a surreal, avatar-like landscape, unexploited and untouched.
He decided to call his now-established route Avaatara, a combination of the word avatar and the gorge's Arabic name, Baatara.