Almost 100 bodies wash up in Libya, EU leaders call for greater cooperation
Comments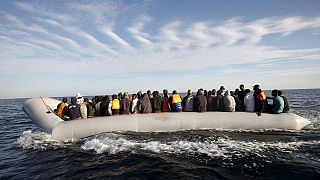 The Libyan Red Crescent says at least 95 bodies have washed ashore on the coast of Libya.
We just found their lifeless bodies lying on the shore.
Some 85 were found near the capital Tripoli and ten further corpses around 70 kilometres to the west, near Sabratah.
They are said to have drowned attempting to cross the Mediterranean to reach Europe.
Abdelhamid al-Swaey is in charge of body recovery operations at the Tripoli branch of the Red Crescent.
"Most of the bodies don't have any identification papers on them. There's nothing to identify them. Who are they? Nothing. We just found their lifeless bodies lying on the shore," he said.
Italian Coast Guard operations
The Italian Coast Guard reports 928 migrants were rescued on Tuesday (October 6), during eight different operations.
A day earlier that figure nearly doubled, with around 1,830 picked up from the Mediterannean, some of whom were taken by the British Navy to Catania in Sicily.
IOM
The International Organization for Migration says in 2015 so far over 560,000 people have crossed the stretch of water in search of shelter in Europe. Almost 3,000 have perished trying.
Cross-European cooperation
Many people end up on Greek islands such as Lesbos, where Prime Minister Alexis Tsipras met Austrian Chancellor Werner Faymann on Tuesday. There they discussed enhancing cooperation on managing migration into the European Union.
Austria is among the EU's most-popular refugee destinations. Faymann said both solidarity and a common response from the bloc's member states were needed to effectively tackle the crisis.