Hungary's Muslims and Jews see no problem taking in refugees
Comments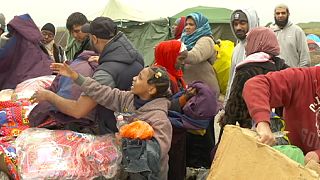 How will they fit in? What influence will religion have? Refugees entering Hungary by the thousands might want to move on, to Germany or Sweden, but the EU's quota distribution system will restrict their choice. Hungary will end up granting asylum to some, with all sides needing to adapt.
One way to integrate Muslim refugees is to treat them fairly.
The great majority of the refugees are Muslims. The Christian-based societies of Central and Eastern Europe have limited experience of Muslim communities of any size, and of course the same goes for the Jewish populations in these countries.
We asked the Organisation of Muslims in Hungary about its view of a common future with new arrivals.
The Organisation's Chairman, Zoltán Sulok, said: "One way to integrate Muslim refugees is to treat them fairly. That is very important. If I look at this topic from the point of view of our religion, it is of the greatest importance that they can correctly practice and understand their religion, Islam."
In historically Christian Hungary, Muslims number only 30-50 thousand. Not all census respondents declare their religion.
Both Muslims and Jews in Hungary account for far less than one percent of the population.
There are fewer than 50,000 Jews here today; more than half a million were deported to extermination camps in WWII.
The national statistics office noted more than 60,000 asylum applications in Hungary in the first six months of this year, mostly by people from Kosovo, Afghanistan, Iraq and Syria.
András Heisler, the Chairman of the Federation of Jewish Communities in Hungary, says: "If we look at history, we find many examples when Jews and Muslims lived together in peace and harmony, a valuable community. I don't think we should be afraid of living together again."
Sulok underscores that sufferers of conflicts arriving in Hungarian society face a stark contrast:
"Many people in Europe, especially here, in Central-Eastern Europe, forget that if somebody comes from Afghanistan, for example, he or she comes from war. People in Afghanistan have been living in war since 1979. The generation coming here has never lived in a normal society, like ours."
Heisler said: "I do not think that we should be afraid of others' religion. We should be afraid of terrorism. And that is the government's and the European Union's responsibility — to pick out terrorists from the crowd of migrants and refugees. It is their job to minimise the risk and danger."
Hungary's Catholic authorities declined our proposal for an interview.