Polish miners stage strike over fears of pit closures
Comments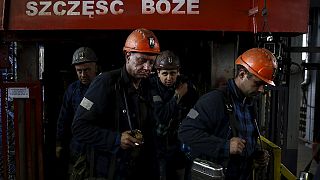 Polish coal miners have gone on strike over fears the owners of the EU's largest mining company are running out of cash.
Kompania Weglowa has 40,000 workers who need paying but a down turn in the mining industry has forced it to seek government help.
Hundreds of miners held a rally on Monday calling for their jobs to be protected.
The treasury ministry which oversees Poland's mining sector has said it has plans to close down unprofitable mines and increase efficiency at the remaining ones. It's the best alternative to bankruptcy which Kompania Weglowa could be facing.