At least 19 killed as air strike hits clinic in northern Afghanistan
Comments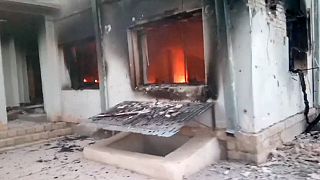 The medical aid group Medecins Sans Frontieres says at least 19 people have been killed after an air strike hit a clinic in northern Afghanistan.
At least 12 MSF staff, four adult patients and three children died, the group said on Twitter, raising an earlier estimate of the death toll.
At least a hundred patients were in the hospital at the time.
The clinic is in Kunduz, a provincial capital that has been the scene of fierce clashes in recent days between Taliban and Afghan forces with NATO back-up.
The alliance has confirmed that US forces were carrying out air strikes at the time and that it's possible the hospital had been hit.
MSF says the strikes continued for more than half an hour after the US and Afghan authorities were alerted to its location.
The group has strongly condemned the attack and says many patients and staff remain unaccounted for.