Rare cyclone wreaks havoc across Mediterranean
Comments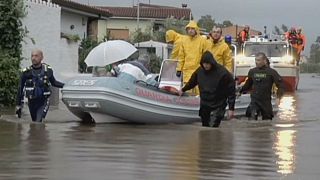 A rare Mediterranean cyclone has wreaked havoc in Sardinia, as more than two months of rain hit the island in just 24 hours.
There are no reports of casualties, however several families were evacuated from their homes.
Strong winds and heavy rainfall caused widespread damage.
In addition to a stream of chaos, the cyclone has stirred up controversy. The flooded areas are largely the same as those affected by Cyclone Cleopatra in 2013, raising questions over whether more could have been done to protect local residents.
Corsica
Heavy rains have also battered Corsica. Some three hundred people were evacuated from this campsite in Aléria after it was inundated with up to 50 centimetres of water in parts.
Several coastal resorts have been hit, however the focus is now on the centre of the island, where the Tavignano River is close to overflowing.