ISIL operations centre in Idlib, Syria 'destroyed' by Russian airstrike
Comments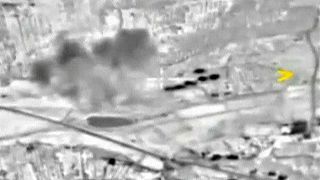 Russia says it has carried out a third day of airstrikes targeting ISIL positions over Syria.
ISIL is one of many groups fighting against Russia's ally, Syrian President Bashar al-Assad.
Video footage showed the aftermath of what is said to be a Russian airstrike in Dair al Asafeer on Friday (October 2).
Igor Konashenkov, a Moscow defence ministry official, told Russian news agencies that Russia's Air Force carried out 14 flights in Syria on Friday and made six strikes against ISIL targets. He said an ISIL military operations centre in Idlib had been destroyed in the raids.
Syrian government air strike on Douma
Footage from the Syrian city of Douma shows an airstrike purportedly carried out by Syrian government warplanes. This civil defence building was hit as people were being helped outside .. including children after an earlier airstrike.