Fainthearted voters wary of Portuguese politics
Comments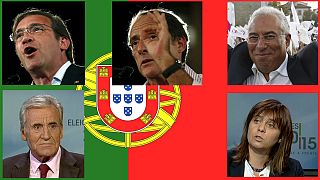 In Portugal's legislative elections this Sunday, October 4th, more people than ever might just skip the ballot box. What's more, pollsters say that more than one fifth of eligible voters have not decided who they might vote for.
In a democracy, there is always room for solutions. I don't believe the country would become ungovernable.
The only certainty is the contenders: incumbent Prime Minister Pedro Passos Coelho, leading the Social Democratic Party centre-right (PSD) versus Antonio Costa, leading the main opposition Socialist Party.
The former has been maintaining a slight lead in predictions of voters' intentions. Coelho has staked out the centre ground, labelling his rival a radical. But if the PSD won, it is unlikely it would get an absolute majority to govern; it is already in coalition with the Christian-Democratic (CDS-PP). The PSD has no one else to turn to.
Costa has told the Portuguese the conservative bid to keep power for the stability of the country is false, saying Coelho's policies have destabilised people and companies. But Costa would not have anyone to prop him up either, if the Socialists won with nothing more than a possible minority; the two parties in parliament to the left of the Socialists, the Left Block and the Communists, have ruled out any alliance with Costa.
Jerónimo de Sousa, Secretary General of the Portuguese Communist Party, said: "A Socialist government that defended salary cuts, pension cuts… how could it command the Communists' support?"
And what will first-time young voters do? If they lean left, will they make their votes count, give them to the Socialists? Or throw in their lot with a smaller party?
Forecasts are for a low turnout, possibly breaking records. The same goes for abstentions.
We talked to political journalist Joaquim Vieira in Lisbon.
Maria Barradas, euronews: "What do the Portuguese expect of this poll?"
Joaquim Vieira: "I think mostly the Portuguese want a government that can turn the page on the last four years of crisis, austerity and submission to the bailout plan. That has been hard and painful for the whole of society, so from now on they'll want stability and some way of achieving more development, progress and economic growth."
euronews: "The choice is either a government led by Pedro Passos Coelho or Antonio Costa. What are the main differences in the two candidates' programs?"
Vieira: "Their proposals are almost identical. Both of them, for instance, support the budget pact with the euro countries, and therefore the framework for micro-management in general. There will definitely not be much difference, even though we could say that the Socialists might show greater social sensitivity towards solving some questions. But in any case there are very strict limits to how policies can be applied. With the right, we have a coalition, that has been governing up till now, that is more realistic about applying policies. On the left, the Socialists' proposals are more based on economic growth scenarios and development which might not happen in the end."
euronews: "What are the possible political scenarios after the vote? What could happen?"
Vieira: "The prospects are probably zero that any political force will attain an absolute majority. What's going to happen is we'll probably get a context of political instability, with agreements in parliament, specific deals to pass certain measures. For example, there could be a majority of the left in parliament, that is possible, but I don't see it forming a government, because between the Socialists and the other forces of the left, some subjects have been enormously damaging, notably on European policy."
euronews: "In spite of that, do you believe there is a chance for a government to get things done, or will the country suddenly become impossible to govern?"
Vieira: "I think that in a democracy there is always room for solutions, and so I don't believe that the country would become ungovernable. Agreements can be reached in parliament on a short-term basis while waiting for new elections. On the other hand, we can't have new elections for the moment, because we're going to have presidential elections in January, and so if there were to be a lack of stability in parliament after this Sunday's elections, it's almost certain that we could have elections again in one year's time. However, it is also true that no party wants to take responsibility on its own for overturning the government because it knows the cost at the ballot box is very high."
euronews: "How do you interpret the prospect of not having a majority? Does it mean the Portuguese people are satisfied with the policies of the past four years, or do they just not see any alternative in the opposition's proposals?"
Vieira: "I'd say the Portuguese are fed up, and this austerity program has been hard and caused great discontent. Simply, they don't see any reason to vote for the current coalition, even if they see no reason to choose the Socialists. A very high abstention rate remains a real possibility, as a clear reflection of this dissatisfaction that the Portuguese feel towards the parties today, and of the political cloud overshadowing these elections."