Cautious optimism on Ukraine after Paris summit
Comments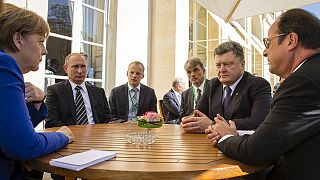 The French are claiming some movement on the situation in eastern Ukraine following a summit in Paris.
President Francois Hollande met with Russian President Vladimir Putin, his Ukranian counterpart, Petro Poroshenko and German Chancellor Angela Merkel.

#Paris: Talks between #France#Germany#Ukraine#Russia on further #ImplementingMinsk currently underway at @Elysee. pic.twitter.com/n43jQf3Swj

— GermanForeignOffice (@GermanyDiplo) October 2, 2015
It is the first time the four had met since the Minsk II treaty had been signed in February.
Francois Hollande expressed some optimism that locla elections in eastern Ukraine may go ahead before the end of the year:"The elections scheduled for October, cannot go ahead, since the conditions we expected are not in place. However elections are being organised and new electoral laws discussed."
Vladimir Putin has arrived in #Paris to take part in Normandy format talks on resolving the situation in #Ukrainepic.twitter.com/fgE5sGQwXS

— MFA Russia (@mfa_russia) October 2, 2015
Things in eastern Ukraine have shown signs of improvement recently
with tanks and weapons
being withdrawn.
"It was an important day, we had a very intense discussion about every step necessary to achieve peace. It is always like this you have to review the process. It was like this after Minsk and it will be like this after Paris. You get guarantees only when things are done."
.@poroshenko arrives for Normandy Four talks in Paris http://t.co/lZqMdN7E1Ypic.twitter.com/k5qhD5pQRb

— UKRAINE TODAY (@uatodaytv) October 2, 2015
Our correspondent in attended the summit in Paris and sent this report:
"The summit of the Normandy Four has consolidated the progress of the settlement for eastern Ukraine. On the other hand there are some local election hurdles. Still Russia's chances to have EU sanctions reviewed by the end of the year appear improved Andrei Beketov, euronews, Paris."