Paris hosts Ukraine summit as Syria simmers in the background
Comments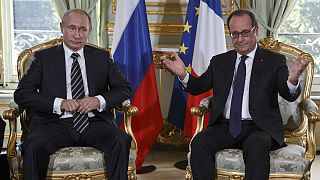 French President Francois Hollande welcomes the presidents of Russia and Ukraine and the German Chancellor Angela Merkel to Paris.
Vladimir Putin has arrived in #Paris to take part in Normandy format talks on resolving the situation in #Ukrainepic.twitter.com/fgE5sGQwXS

— MFA Russia (@mfa_russia) October 2, 2015
The leaders are to discuss the situation in eastern Ukraine and the resilience of the Minsk II treaty signed in February.
#Ukraine pins hopes on "Normandy" talks in Paris to cement ceasefire (Reuters file pic) http://t.co/e6444ZLiUSpic.twitter.com/SKcJRFfSR1

— China Xinhua News (@XHNews) October 2, 2015
Euronews correspondent Andrei Beketov, reports from the French capital: "Vladimir Putin arrived at the Élysée Palace to brieFrançois Hollande on Russian actions in Syria. By vowing to fight against ISIL, the Russian President may be hoping to achieve a better deal on Ukraine, particularly the easing of economic sanctions imposed on Russia for annexing Crimea."
Writer and political analyst Philippe de Lara believes Russia is in the driving seat in Ukraine: "In Ukraine, Russia indeed occupies a certain position of strength it is not clear how Ukraine will regain control in Crimea whether by force or negotiation, it is not clear how the fighting in Donbass will end, but there is no victory."
Vladimir Putin has arrived in Paris where he will be attending the summit on #Ukraine. (Reuters) pic.twitter.com/CgL3Cob75W

— The Moscow Times (@MoscowTimes) October 2, 2015
Two key issues for President Poroshenko are local elections in eastern Ukraine by the year end and the handing back of control of the Russian border with Ukraine to the government in Kyiv.