Clashes erupt at holy site in Jerusalem
Comments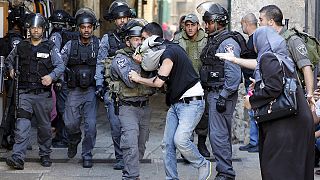 Palestinian President Mahmoud Abbas is expected to give Israel an ultimatum today during his speech at the United Nations.
The Palestinian leader's address comes against a background of further clashes between Israeli forces and Palestinians at a disputed holy site.
On Tuesday (September 29) the violence in Jerusalem's Old City spilled over to a checkpoint outside Ramallah and to Hebron and Bethlehem, amid heightened tensions as Jews celebrated the Sukkot holiday.
Palestinian youths had attacked security forces on Monday, throwing stones and firebombs at Israeli police while barricading themselves inside the Al-Aqsa Mosque atop the Temple Mount.
Many Palestinians suspect Israel wants to make changes to the status quo that has governed rights of access since 1967 – something Israel has denied.
In New York Abbas is expected to demand that Israel meets its obligations and moves forward with a permanent peace process.
The White House has expressed concern about the violence at the site and called on all sides to exercise restraint.
It is a topic which on Thursday (Oct.1) Israeli Prime Minister Benjamin Netanyahu is likely to turn his attention to along with his opposition to the Iran nuclear deal.