Afghan and US forces launch offensive to retake Kunduz from Taliban
Comments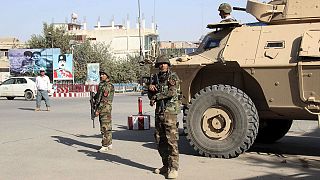 Afghan forces backed by US aircraft have launched a counter-offensive to retake the city of Kunduz.
The provincial capital was overrun by Taliban fighters on Monday.
Witnesses say the streets were littered with bodies
as Taliban fighters screeched round the city in stolen vehicles.
Afghan forces mobilise for Kunduz counteroffensive; Scores of bodies litter city streets http://t.co/eIWvfzmPuMpic.twitter.com/QJAOsxWTbS

— AJE News (@AJENews) September 29, 2015
The group broke open the local jail and freed 500 inmates, many of them Taliban members.

Vid shows the moment when Tālibān fighters raised their flag over the main square in the n- #Afghan city of #Kunduz. pic.twitter.com/cy1586BOxL

— Sakir Khader (@sakirkhader) September 28, 2015
Afghan troops retreated to the airport to regroup.
The Taliban's military success will pile pressure on President Ashraf Ghani.
Pics show Tālibān fighters inside the northern Afghan city of Kunduz after they stormed the town today. pic.twitter.com/0eTOe8zAMF

— Sakir Khader (@sakirkhader) September 28, 2015
Kunduz is a key transport hub linking the north of the country and a former Taliban stronghold.
Taliban fighters drive a Red Cross vehicle a day after capturing city of Kunduz, Afghanistan http://t.co/doU2byOWrGpic.twitter.com/Ag4yp4NkQu

— Agence France-Presse (@AFP) September 29, 2015
It is the first major city to fall into Taliban hands since the US-led invasion forced the Taliban from power in 2001.