Catalan separatists on collision course with Madrid after election victory
Comments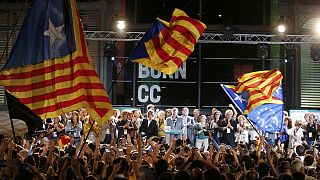 There were celebrations in Barcelona after pro-independence parties won an absolute majority of seats in Catalonia's 135-strong regional parliament.
With more than 90% of votes counted the main secessionist group "Together for Yes" were set to win 62 seats, while the communist pro-independence CUP will have another 10.
The separatists have opened up a significant gap between themselves and pro-unity parties. Second place "Citizens" are on course for 25 seats while Prime Minister Mariano Rajoy's Popular Party is trailing with 11.
But crucially, after a record turnout of more than 77%, the pro-independence groupings failed to secure more than half of total votes, a threshold opponents claim is necessary to legitimise the independence drive.
Rajoy responded to the vote by retweeting a message from his party vowing to ensure Spain remains united. He points out that his country's constitution makes Catalan independence illegal.
Mandamos un mensaje de tranquilidad: el Gobierno va a seguir garantizando la unidad de España pablocasado_</a> <a href="https://twitter.com/hashtag/eleccionescatalanas?src=hash">#eleccionescatalanas</a></p>&mdash; Partido Popular (PPopular) September 27, 2015
How the night unfolded