Catalonia: separatist parties on collision course with Madrid after election win
Comments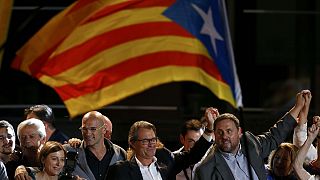 Pro-independence parties have won a majority in the Catalan parliament on a platform of pushing ahead unilaterally with a split from the rest of Spain.
The two main separatist groupings secured 72 seats, well clear of the 68 required for an absolute majority. However, following a record turnout of more than 77%, they fell short of winning half of votes which opponents said would be needed to legitimise their policies.
The results pave the way for a clash with Madrid as the central government points out that independence is illegal under Spain's constitution.
Latest results
Artur Mas, who was president of Catalonia prior to the elections hailed victory for his pro-independence grouping, declaring that the people had voted to split from Spain.
However, the leadership of Ciudadanos, insisted that the independence project had failed and called for fresh elections based on local issues.
Mas and his Junts pel Si (Together for Yes) coalition has promised to embark on an 18 month journey to independence. The results of national elections due in November will play a big part on how that journey proceeds.