New Greek cabinet gets to work on unpopular reforms
Comments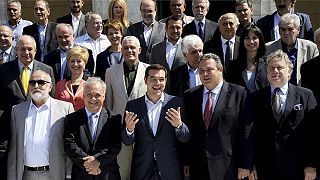 Greek Prime Minister Alexis Tsipras has chaired the first cabinet meeting of his new administration following his recent election victory.
The mandate we received can be summed up in one word: Work. Without selfishness. With a collective spirit. #Greecepic.twitter.com/p15PE16SZh

— Alexis Tsipras (@tsipras_eu) September 25, 2015
Tsipras and his Syriza party have teamed up with the Independent Greeks party and hold a slim five seat majority in the 300 seat parliament.
Tsipras addressed his ministers: "We face the obligation to quickly implement what has been agreed. Implementation without delay is an immediate priority, and the first step is to very speedily conclude the first bailout review."
The opposition New Democracy derided the cabinet as a 'recycling of old faces in the same ministries'.
It is a tough and unpopular road ahead for Tsipras he must reform pensions and labour systems and oversee the recapitalisation of the banks and handle debt relief negotiations.