Hungary Prime Minister Viktor Orban seeks support for Croatian border controls
Comments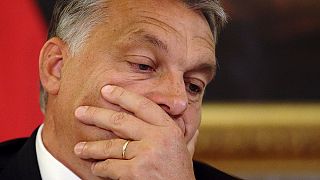 The Prime Minister of Hungary Viktor Orban has said his country will seek support to implement measures to block the flood of migrants on its southern border with Croatia.
He was speaking after a meeting in Vienna with the Austrian Chancellor Werner Faymann. He admitted relations had been poor with his neighbours over the migrant crisis but had improved as a result of the meeting.
"The protection system which was erected on the Serbian-Hungarian border has fulfilled the hopes and lived up to expectations. Now our task is to have the same system work on the Croatian-Hungarian border.
'Now it seems to me that Austria, even if not whole-heartedly but in the state of acceptance acknowledges that Hungary needs to set up an actual border control on the Croatian-Hungarian border to meet its obligations concerning international laws. This is our task now."
The decision on new controls at the Croatian border stressed Orban would only be taken after consultations to gather support for the move.
He also said Croatia's proposal to create a "corridor" for migrants towards Austria contravenes relevant EU regulations but could still be considered, if Austria and German supported it.