A Hungarian view on Hungary's migrant situation
Comments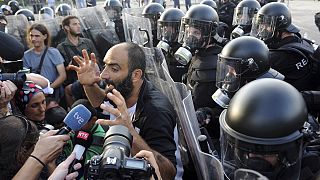 Hungary has been in the international media spotlight for months.
On the south-eastern edge of a cluster of border-free Schengen Zone members, it is on the frontline of the migration crisis sweeping Europe.
While foreign media has often concentrated on the individuals and families making the journey across the continent, our correspondent in Budapest says focus in the Hungarian media has depended on the political orientation of the news organisation.
Euronews' Attila Magyar says clashes on the Serbia-Hungary border attracted almost as many journalists as the migrants present and the country is not used to it.
Gergely Dudas, the editor-in-chief of popular online news site, Index, says the number of hits on his site has increased dramatically as the number of migrants entering Europe rises. Record numbers visited the site after Hungary made a controversial decision to build a fence on its border with Serbia to stem the flow of people entering the country. A further barrier across its frontier with Croatia is under construction and one has been proposed for Romania.
The government's actions have provoked debate both in Hungary and abroad. Hungarian camera woman Petra Laszlo also came under criticism and eventually lost her job when images circulated of her appearing to kick fleeing migrants.
While some have been loud in their disapproval of Hungary's reaction to the new arrivals, Syrian-Hungarian journalist Hesna al-Ghaoui thanked the local people for helping migrants entering the country.