Burkina Faso coup leader 'ready to step down'
Comments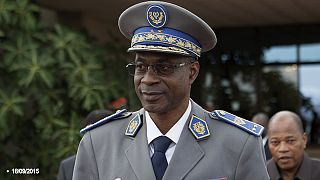 Talks are said to have begun between General Gilbert Diendere, the man who lead last week's coup by Burkina Faso's elite presidential guards, and the west African country's military leaders.
The move comes after soldiers marched on the capital Ouagadougou without resistance last night.
#UPDATE Burkina Faso army enters capital as coup leaders free president http://t.co/e68nvtckb8

— Agence France-Presse (@AFP) September 22, 2015
Diendere who has become increasingly isolated is believed to be ready to accept a deal proposed up by the regional mediating group ECOWAS.
"(We) confirm our commitment to return power to the civilian transition authorities, after a definitive agreement to get out of the crisis made under the authority of ECOWAS," said General Gilbert Diendere.
At the same time Interim President Michel Kafando, who had been taken hostage in the coup and placed under house arrest, has been freed and seeking protection in the embassy of former colonial ruler France.
When the news of talks got round street celebrations broke out at the signs of a possible return to peace, but not everyone is so confident.
There is must opposition to the ECOWAS deal which includes an amnesty for the coup leaders, making analysts warn of more violence.
Lead up to coup
Burkina Faso's Presidential Security Regiment (RSP) ousted the interim government of President Michel Kafando and replaced it with the National Council for Democracy (CND).
Its leader General Gilbert Diendere had accused the government of "mismanaging" the transition, which was scheduled to end with general elections in October. The transitional government was formed after former President Blaise Compaore was ousted following protests in October 2014.
Relations between the RSP, which was influential under Compaore, and the interim authorities were not easy and earlier this month a government commission recommended its disbandment.