Syrian government rockets kill 18 people in Aleppo
Comments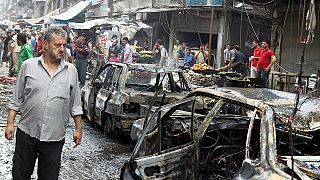 At least 18 people were killed in Aleppo on Monday (September 21) in Syrian government rocket strikes on two rebel-held residential neighbourhoods, according to monitoring group Syrian Observatory for Human Rights: Bustan Al Qasr and Al-Shaar.
Reports suggest many of the people killed were shopping for groceries when the rockets slammed into a market.
Again & again markets r the main target of #Assad force, 15 grocery shoppers r killed. #Aleppo#Syria Damn #Russia! pic.twitter.com/pce7HB17K0

— Zaina Erhaim (@ZainaErhaim) September 21, 2015
Syria's four-year old civil war has reduced much of Aleppo to rubble.
Tens of thousands of Syrian refugees on the road to Europe have fled chaotic scenes in their neighbourhoods.
Monitoring organisations say Syrian President Bashaar Al-Assad's government has killed far more people in Syria than fighters from so-called Islamic State (ISIL).
#SNHR: at least 12 victims died in gov artillery SSM missile fired on market in Al Sha'ar in Aleppo, Sep 21 pic.twitter.com/6sLcTgbsm8

— Syrian Network (@snhr) September 21, 2015