Netanyahu and Putin meet in Moscow to counter risk of air clashes over Syria
Comments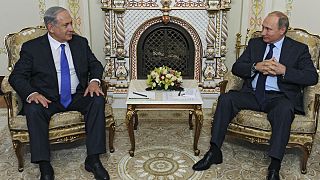 Israeli Prime Minister Benjamin Netanyahu, following a visit to Mosow for talks with Vladimir Putin, says they have come to an agreement to ensure their planes to do not shoot at each other over Syria.
The Syrian airforce uses the same MIGs as Russia, and with Moscow now reinforcing Bashar al-Assad, and the Israelis controlling the skies near its border with Syria the risk of an accidental dogfight was high.
Russia's only Mediterranian port is the Tartus naval base where it can operate aircraft carriers, and has done since 1971 when Assad's father granted them rights.
Until recently it was the only official Russian installation in Syria, but several sources report Russian engineers are busy extending runways at Hamimim and Hamidiya, with regular airlifts bringing in men and supplies in recent weeks.
Israel is also concerned some top-of-the- line Russian hardware could fall into the hands of Syria's allies Hezbollah which Israel has repeatedly attacked from the air, or that anti-aircraft batteries protecting sectors where they are present might be operated by Russian personnel.
Besides the formidable MIG 29s US officials say Russia has started to deploy drones in Syria.