Greek voters measure trust in Tsipras
Comments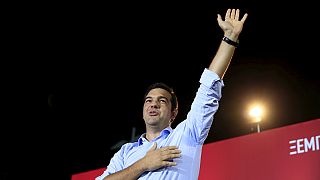 Alexis Tsipras's political star rose against a backdrop of revolt against conditions imposed on Greeks to bail them out of debt. And then he caved in and agreed to the terms.
In January this year he was elected prime minister.
"With our people united, dignified and proud," he said, "we open the road to a better tomorrow."
Do the Greeks feel they are still on an open road?
Trained as a civil engineer, Tsipras entered parliament in 2009 at the head of the Radical Left Syriza party. This January it won 149 out of the 300 seats in a snap election. Greece's new premier was just 40.
Already politically active as a high school student, Tsipras was a member of the Communist Youth wing. He built on that in university.
With Greece's youngest politician fighting austerity policy, in elections in 2012, Syriza's vote share soared, and it became the main opposition party.
Tsipras traded long on his smile and relaxed look, both at home and with Greece's European partners, the Juncker Commission, the International Monetary Fund and the European Central Bank — all the while pushing for a better bailout deal.
"'No' means strong pressure for an economically viable agreement," he told the Greek people, "one that offers to solve our debt and not make it explode, and continually undermine our efforts to help revive the Greek economy and society."
In a referendum in July, more than 60% of Greeks voted 'no' to the conditions on the table.
Under eurozone storm clouds, Tsipras knuckled down to negotiations. The talks tested both sides' mettle to the brink. He got a new loan, and a backlash with it.
Greece's standing bailout expired, and when Tsipras accepted the partners' ultimate bailout terms, many Syriza members in fury formed their own party.
Seven-month Prime Minister Tsipras resigned in August, and called today's (September 20) election.
He said: "I feel the deep ethical and political obligation to lay before your judgement everything I have done both right and wrong, achievements and omissions."
On television before Sunday's vote, his conservative rival Vangelis Meimarakis told him: "You are on your way out, and you brought catastrophe."
But now Tsipras looks set to return to the prime minister's office.