Caracas: anti-government protesters call for release of political prisoners
Comments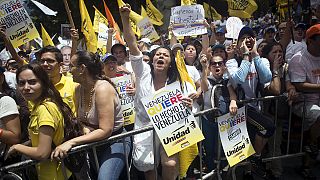 Thousands have taken to the streets of Caracas to demonstrate against the government of President Nicolas Maduro.
They also demanded the release of opposition leader Leopoldo Lopez.
He was jailed earlier this month for inciting anti-government protests last year, which sparked deadly violence.
Demonstrators marched through the streets of the Venezuelan capital waving flags and chanting protest slogans.
Some dressed in black and white striped prison uniforms and carried chains to symbolise the incarceration of political prisoners.
Lopez's sentencing drew swift international condemnation. US Secretary of State John Kerry said Washington was "deeply troubled," calling the charges "illegitimate."
Opponents claim that Venezuela's government is inventing coup plots to clamp down on dissent ahead of December's parliamentary elections.