Masses of migrants and refugees adrift in Croatia
Comments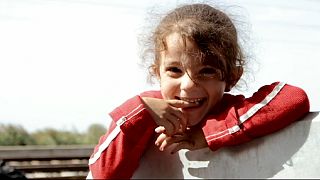 Euronews is the Croatian town of Tovarnik near the Serbian border one day after Croatia's prime minister said his country can not accept the "burden" of thousands of migrants.
Larna travelled from Syria with her husband after he was called up to serve in President Bashar al-Assad's army.
"I left Syria because my husband was out of Syria because he doesn't want [to fight..]
I was in Lebanon," Larna told euronews. "Then I transfered to Turkey after that we came here. After Turkey we went to Greece across the sea in a boat. We saw the sea in front of us but we wanted to leave Turkey."
Larna is optimistic they can build a better life in Slovenia or Austria
"We don't have phone," she continued. "We don't have internet. We don't have a charger. We don't have anything. We are uncovered. Our parents don't know anything about us. […] I'm afraid [of] just one thing. Diseases because here is full of diseases. Dirty, rubbish, toilets. We want to go from here."
So they wait. Their next destination will most probably be either Slovenia or Hungary.
Croatian Prime Minister Zoran Milanovic said that buses and trains would keep running to Hungary. He said that, unlike Hungary, he would not use "brute force" to keep people out, nor would his government make them stay against their will.
"We forced them [to accept the migrants], by sending people up there. And we'll keep doing it," Milanovic told reporters.
Hungary, where the right-wing government of Viktor Orban has vowed to defend "Christian Europe" against the mainly Muslim migrants, accused Croatia of "violating Hungary's sovereignty" by sending buses and trains packed with migrants over their joint border.
More than 20,000 migrants, many of them refugees from Syria, have trekked into Croatia since Tuesday, when Hungary used a metal fence, tear gas and water cannon on its southern border with Serbia to bar their route into the European Union.
This SergeyPonomarev</a> photo of refugees teargassed by Hungary is the face of Europe for many today <a href="http://t.co/J9PW9kelbG">pic.twitter.com/J9PW9kelbG</a></p>&mdash; reported.ly (reportedly) September 17, 2015