Eurostat data reveals increase in first time asylum seekers for the second quarter of 2015
Comments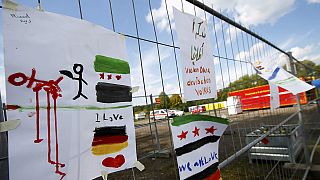 A report has put numbers to the human tide of first time asylum seekers who have registered in Europe. Figures from the Brussels statistics body Eurostat for the second quarter of this year shows the numbers have jumped.
There was a 15 percent rise compared to the first quarter while the figures soared by 85 percent compared to the same quarter in 2014.
Between April and June 213,000 asylum seekers arrived in Europe. Migrants from Syria and Afghanistan represented the highest percentage of first time applicants.
Of the total 44,000 arrived from war-torn Syria – one in five of first time applicants. Eurostat reported that's a considerable rise from the first quarter and the same period in 2014. More than three quarters were registered in four Member States: Germany, Hungary,Austria and Sweden.
The main destination for the 27,000 who left Afghanistan looking for protection in the EU was Hungary -13 percent of the total. Figures for those seeking asylum from Kosovo showed a dramatic drop. Kosovars who topped the statistics in the first quarter dropped by 40,000 to just 10,000.
Germany was the favoured destination. Eurostat data revealed almost 81,000 first time applicants registered in Germany – 38 percent with Hungary the second favoured country. Fifteen percent of the total made their way there.